From Hours of discovery to the extraordinary tastes

SERVING BREAKFAST & LUNCH FAVORITES 7-2:30 DAILY
pork green chili, crema, jack cheese, cilantro
toasted cinnamon sugar, raspberry jam (VG)
jack cheese
$9 Bowl | $7 Cup
(V/V/GF) $9 Bowl | $7 Cup
(VG/GFF) $8 Bowl | $6 Cup
house pickles, sourdough bread
 seasonal fruit, candied nuts
avocado spread, tomato, hard boiled egg, bacon, arugula, queso fresco, multigrain bread
GLUTEN FREE BREAD AVAILABLE
Greek yogurt, seasonal fruit, granola
Emerge Aquaponics greens, cucumber, cheese, tomato, croutons, egg, champagne vinaigrette  (VG)
cranberries, goat cheese, pickled red onion, strawberry balsamic vinaigrette
mixed greens, dried cranberries, dried blueberries, blue cheese, honey candied almonds, strawberry balsamic vinaigrette, pickled red onion (VG/GFF)
mixed greens, bacon, blue cheese, confit tomato, avocado, egg, chicken, peppercorn ranch dressing (GFF)
Emerge Aquaponics greens, lemon, poached shrimp, avocado, champagne vinaigrette, fresh herbs
Add Chicken $7
Add Salmon $9
Add Shrimp $9
two eggs, choice of meat, torn potatoes, toast, house jam (V/VG option)
Anson Mills grits, shrimp, confit tomato, green chili, arugula, croutons (GFF)
leek hash, smoked pork, two eggs, pork green chili or sausage gravy (V/VG/GFF option)
corn tortillas, mixed black beans, vegetarian green chili, two eggs, jack cheese, pico de gallo (VG/GFF)
– substitute pork green chili $2
chef's choice ingredients, torn potatoes (GFF)
seasonal ingredients baked in a handmade crust, served with a small house salad
cheesecake spread, strawberry compote, chantilly, condensed milk
Brick Fire Bakery everything bagel, house smoked salmon, compound cream cheese, tomato, red onion,  frisee, whole grain mustard
Banana Bread French Toast
$16
bananas, salted caramel, chantilly (VG)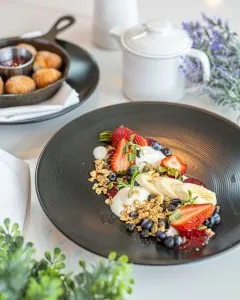 Fries, Salad, Soup, or Fruit
Gluten Free Bread Available
sourdough, bacon, pimento cheese, butter lettuce, tomato, avocado
Colorado beef, bourbon caramelized onion, mushrooms, truffle aioli, mushrooms, blue cheese, arugula, brioche bun
marble rye, house corned beef, sauerkraut, Russian dressing, gruyere
General Palmer Grilled Cheese
$16
three cheese blend, roasted tomato, basil, tomato soup
brioche, lettuce, tomato, chipotle aioli, house pickles
brioche bun, Cajun remoulade, arugula
"

we make everything from scratch and want to offer our customers an elevated breakfast experience."

poached eggs, bacon, spinach, green chili, house buttermilk biscuit, hollandaise
one house buttermilk biscuit, sausage gravy – add egg +$1.25
Cheese Quesadilla With Fruit
$6
Mini Chocolate Chip Pancake Stack
$7
Grilled Cheese With Fries
$6
bananas, yogurt, peanut butter sauce, granola
one egg, bacon or sausage, hash
*Items may contain raw or undercooked foods
Consuming raw and undercooked meats, poultry, seafood, shellfish, or eggs may increase your risk of food-borne illness.
VG = Vegetarian | V=Vegan | GFF=Gluten Free Friendly (not certified gluten free)

enjoy them here or take them to-go!
Vanilla Bean Cake, Mixed Berry Compote, Mascarpone Mousse
Devil's Food Cake, Valrhona Chocolate Ganache, Chocolate Cream Cheese Frosting
Lemon Chiffon Cake, Lemon Curd, Whipped Valrhona White Chocolate Ganache, Poprock Bark
Carrot Cake, Ginger infused Cream Cheese Mousse, Candied Carrot
Almond Brown Butter Financier Cake, Caramelized Pineapple Compote, Creme Fraiche Mousse, Brandied Cherry
Lime Chiffon Cake, Lime Curd, Coconut Mousseline Cream, Toasted Coconut
Lemon Chiffon Cake, Lemon Mascarpone Mousse, Lemon Chantilly, 31% white chocolate curls
Sugar cookie crust, bourbon pecan and dark chocolate filling, topped with creme chantilly
Milk Chocolate Blueberry Cookie
$3.5
35% Valrhona Milk Chocolate, Dried blueberry, Brown sugar , butter, egg
Sweet dough enriched with butter, Various fillings
Sugar Cookie Crust, Lemon Curd, Italian Meringue
Passion Fruit Milk Chocolate
$8.5
*Contains Nuts – Chocolate Cookie Crust, Flourless Chocolate Cake, Passion Fruit Curd, Milk Chocolate Ganache, Hazelnut, Dark Chocolate Deco, Chantilly Cream
*Contains Nuts – Sugar Cookie Crust, Almond Cream, Pastry Cream, Seasonal Fruit
*Contains Nuts – Pistachio Cake, Rose Mousseline, Cassis Gel, Chantilly Cream, Freeze Dried Raspberries
Graham Cookie, Olive Oil Sponge, Cranberry Bavarian, Cranberry Gel, Yuzu Curd, Glaze, White Chocolate
*Contains Nuts – Banana Bread, Brandied Raisins, Pecans, Chocolate, Amarena Cherry
Pumpkin Bread, Pepitas, Rum Glaze, Gooseberry
Lemon Pound Cake, Lemon Glaze, Lemon Twist
Sourdough (Pan De Campagne)
$5.5
Toasted Fennel, Honey, Turmeric, Cinnamon, Cayenne
Olive Oil, Kalamata Olives, Roasted Red Pepper, Smoked Paprika, Maldon Sea Salt 
Wheat Flour, Sesame, Pepitas, Sunflower Seeds
Cinnamon Sugar Pull Apart
$5.5
Yeasted Dough, Butter, Brown Sugar
(v) vEGAN | (NF) NUT FREE | (GF) GLUTEN FREE
2 shots Hold Fast Rock Solid (Hot or Iced)
Hold Fast House Blend (regular or decaf)
Medium $3 | Large $3.50
Equal parts espresso , steamed milk, milk foam
2 shots espresso, steamed milk, milk foam (Hot or Iced)
Medium $5 | Large $5.50
Chilled Coffee
Medium $3.50 | Large $4
Steamed Milk | Add a flavor for .50
Medium $3.00 | Large $3.50
Almond +1.00 | Oat +1.00 | Coconut + 1.00
Vanilla, Caramel, Hazelnut, Cinnamon, Lavender,
SF Caramel, SF Vanilla, Chocolate, SF Chocolate,
SF White Chocolate, Raspberry, Cherry, Toffee Nut,
Salted Caramel, Coconut, Honey, Toasted Marshmallow,
Pomegranate, Blackberry, Peppermint, Coconut Milk,
Blue Raspberry, Brown Sugar, Maple Spice, Almond,
Simple, Pumpkin, Seasonal, Semi Sweet, Extra Sweet +.25
Earl Grey, Sencha Green, Black Breakfast, Chamomile (Hot or Iced)
Medium $2.50 | Large $3
Chai tea, steamed milk, vanilla, cinnamon topping (Hot or Iced)
Matcha green tea powder, steamed milk, vanilla | Sweet or Unsweet | (Hot or Iced)
From Hours of discovery to the extraordinary tastes
CHOICE OF JUICE
cold kicker, green goddess, orange, pineapple, cranberry, grapefruit
– ask for our flavor of the week
– add nectarine vodka +$2
prosecco, lavender syrup, grapefruit juice
Fresh squeezed orange juice and Blue Moon | add shot of Peach Schnapps + $2
choice of 3 juices and bottle of prosecco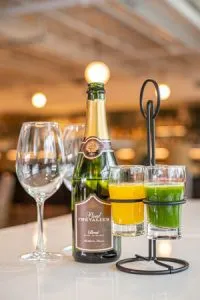 iced espresso and Licor 43
When Life Gives You Lemons
$12
huckleberry vodka, lemonade
Seasonal flavored liquor, Fever Tree Ginger Beer, Lime
honey lemon, lavender gin, pineapple juice, mint and topped with soda
honey lemon, spiced rum, prosecco, rimmed with bee pollen
spices, pickles and bacon – choice of liquor (vodka, pepper vodka, ginfuego, tequila)
daily fresh
squeezed juices
honeydew melon, cucumber, apple, kale, mint and ginger
orange, grapefruit, apple and ginger
vodka, ginfuego, vanilla simple and house-made whipped cream
Jameson, Baileys, vanilla simple, Hold Fast coffee and house-made whipped cream
please see server for weekly offerings
please see server for draft and can selections